Group connected to Freedom Flotilla held and 'denied access to a lawyer' after fleeing Indonesia
Marni Cordell
theguardian.com, Friday 27 September 2013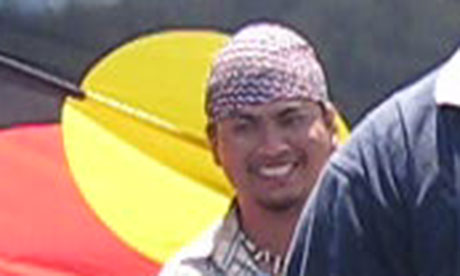 Yacob Mechrian Mandabayan was one of seven West Papuans who was deported to Papua New Guinea after seeking asylum in Australia. Photograph: Freedom Flotilla
A group of West Papuans who went into hiding in fear for their lives after taking part in the West Papua Freedom Flotilla have been deported to Papua New Guinea after seeking asylum in Australia.
Seven West Papuans, including a woman and a 10-year-old child, landed on Boigu Island in the Torres Strait, just 6km from PNG a on Tuesday night. On Thursday night they were deported to PNG, according to Ronny Kareni, a West Papuan refugee living in Melbourne who spoke to the group on Friday morning.
"They are very distressed and scared," he told Guardian Australia on Friday morning.
Yacob Mechrian Mandabayan, one of the men on board the boat, told Guardian Australia from a safe house last week that he feared for his life after receiving threats from the Indonesian military and police.
"We've become refugees in our own country and we ask your help to expose our situation here," he said. "We need your help. Please."
Kareni outlined the journey the asylum seekers took after landing on Boigu. He said they were taken on a boat from Boigu to Horn Island, and then a helicopter came and picked them up. He said they were told they were going to be processed on the mainland, but that later, when they were in the air, one of the immigration or customs officers told them they were actually heading to Port Moresby.
The group stayed in a hotel in Port Moresby on Thursday night and had an interview with immigration officials on Friday morning, where they would be told whether they were being sent to Manus Island detention centre, Kareni said.
"They are claiming asylum from Australia and they asked if they could contact a lawyer but they were denied access to a lawyer or to [any other] contact," he said.
"We're still trying to find a lawyer for them in PNG so they can claim their asylum. We are demanding there's a lawyer present, in case they are rejected without any appeal."
The Abbott government's tight information control on boat arrivals has made any information about the group difficult to verify.
Guardian Australia spoke with customs on Thursday Island, customs media in Canberra, Department of Immigration and Border Protection media and a spokesperson for the immigration and border protection minister, Scott Morrison. All declined to confirm the names or location of the seven West Papuans.
"Those questions will have to be directed to the Operation Sovereign Borders press conference on Monday," Guardian Australia was repeatedly told.
The West Papuan Freedom Flotilla was a collaboration between Indigenous Australian and West Papuan activists, designed to raise awareness of human rights abuses in West Papua under Indonesian rule.
It was planned that a flotilla of boats would sail from Cairns to the Indonesian port of Merauke in West Papua, but the activists changed their plans when the Indonesian military would not rule out using lethal force against them.
Instead, a group of West Papuans crossed the Indonesian sea border in a small boat to meet the flotilla earlier this month. Mandabayan was on board.
"The military threatened me," he told Guardian Australia last week after returning from the journey, adding there was "ongoing surveillance around the house at night and during the day".
"They are trying to identify [whether] me and other cousins were involved directly with the flotilla or not."
Several other West Papuans have also been arrested and intimidated for their involvement with the flotilla – including a group of four in Sorong, in West Papua's west, who face long jail terms after being charged with treason for attending a church meeting to pray for the flotilla, and after they told police they wanted independence from Indonesia.
West Papuans have agitated for independence from Indonesia since the province was acquired by Indonesia in a sham ballot in 1969.
Joe Collins of the Australia West Papua Association said of the seven West Papuan asylum seekers: "Anybody who knows the situation in West Papua would have no doubt that they are genuine asylum seekers fleeing persecution by the Indonesian security forces and should be granted refuge in Australia."